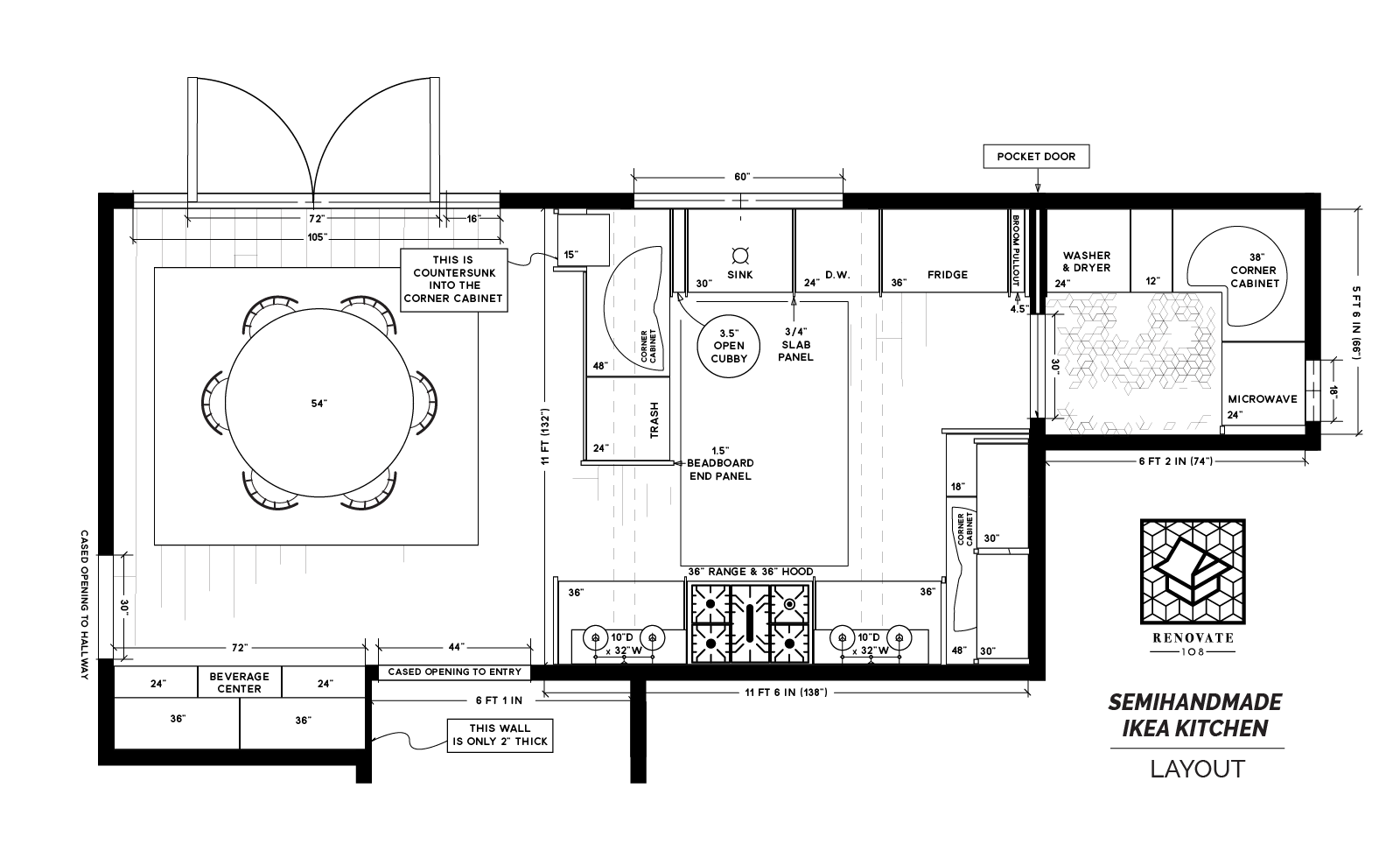 ---
jump to…
Some of the most common questions I receive (beside "paint color?!" It's Narragansett Green, I'll just get that out of the way) are in regard to our kitchen layout. "How big is your kitchen? ", or "What cabinets make up your countertop hutch? ". This article will answer the most frequently asked questions, and hopefully more!

However, in order to understand why our kitchen layout is the way it is, it is important to understand where we began, and the choices we made to adjust the existing layout to utilize the space in the way we felt was most beautiful and efficient!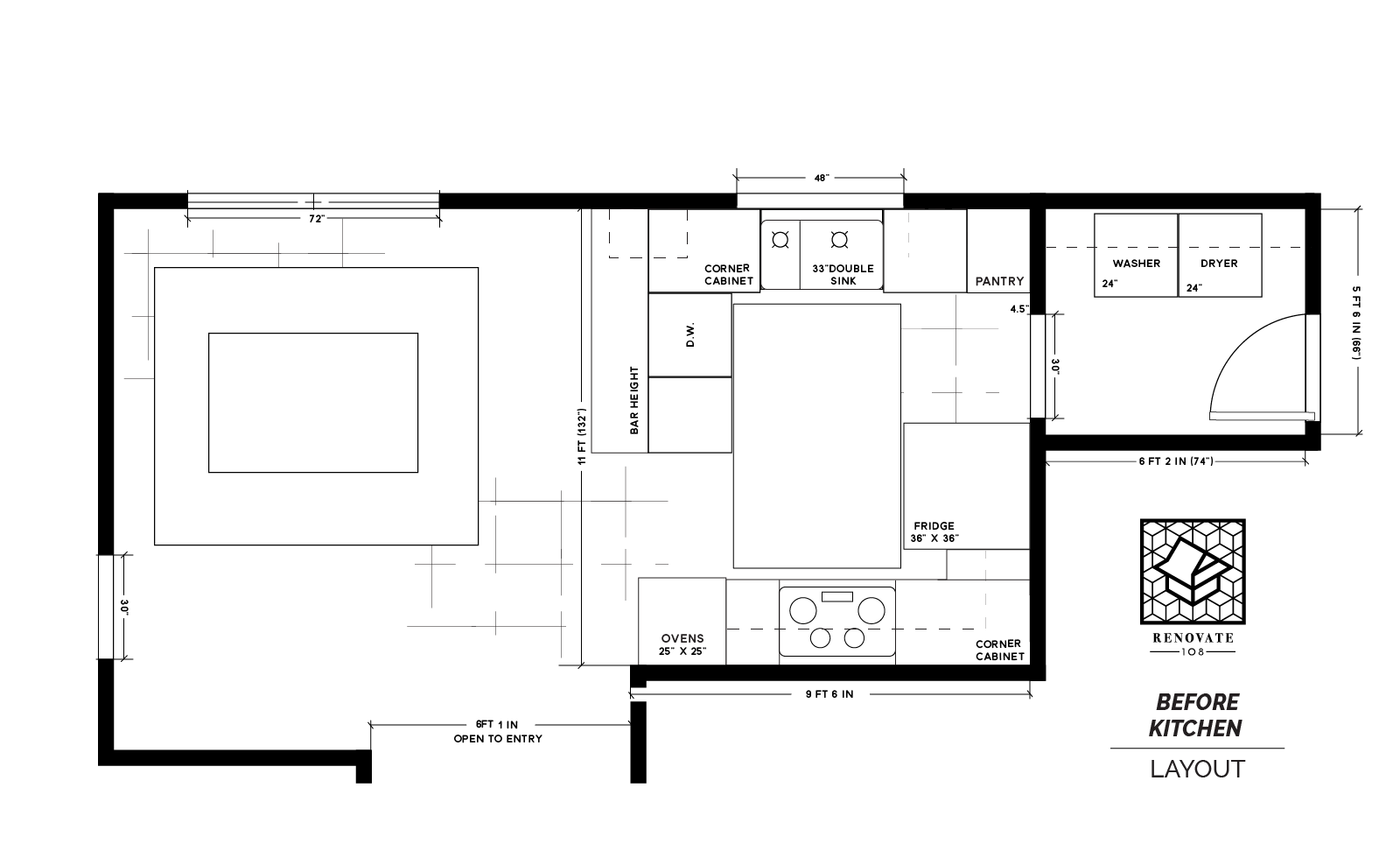 When we moved in, our kitchen had not been updated much since our house was built in 1964. It had the original appliances and cabinets, although I suspect that the counters MAY have been replaced at some point (I'm not 100% sure of that, because the sink was still the original mustard color that matched the stove top and range hood, and it is questionable that they would have kept the sink but replaced the counters? But perhaps they did). Someone had taken down the cabinets that floated over the peninsula and hung them in the garage at some point, and installed the brick veneer, faux arch (which was definitely cute, but also falling apart) and a dishwasher. Other than that, I think the contact paper in the cabinets may have even dated back to the 60s. In regards to the layout, mostly we liked it (In general, we really like the layout of this house). The double-L shape felt friendly and comfortable, and there wasn't much we could do to change the basic shape without totally reconfiguring our house (which we didn't want or need to do).
However, the fridge placement was very problematic, the corner cabinets were almost useless, and the pantry was too narrow and deep. The fridge doors opened into the stove top, and blocked drawers from opening fully. We also didn't enjoy walking into our kitchen and BAM! Giant hunk of stainless steel in yo face. We also felt like there was a lot of underutilized space in the laundry room and the dining area.
So, final layout of our new kitchen came together quickly; we'd stick with the double-L layout, with the sink and the stove close to their original positions, but we'd solve the problem of the fridge location, while providing significantly more counter space and usable cabinet space by extending the range wall, and adding cabinets to the dining space and laundry room, all without increasing the square-footage of the kitchen.
---
The Fridge & Pantry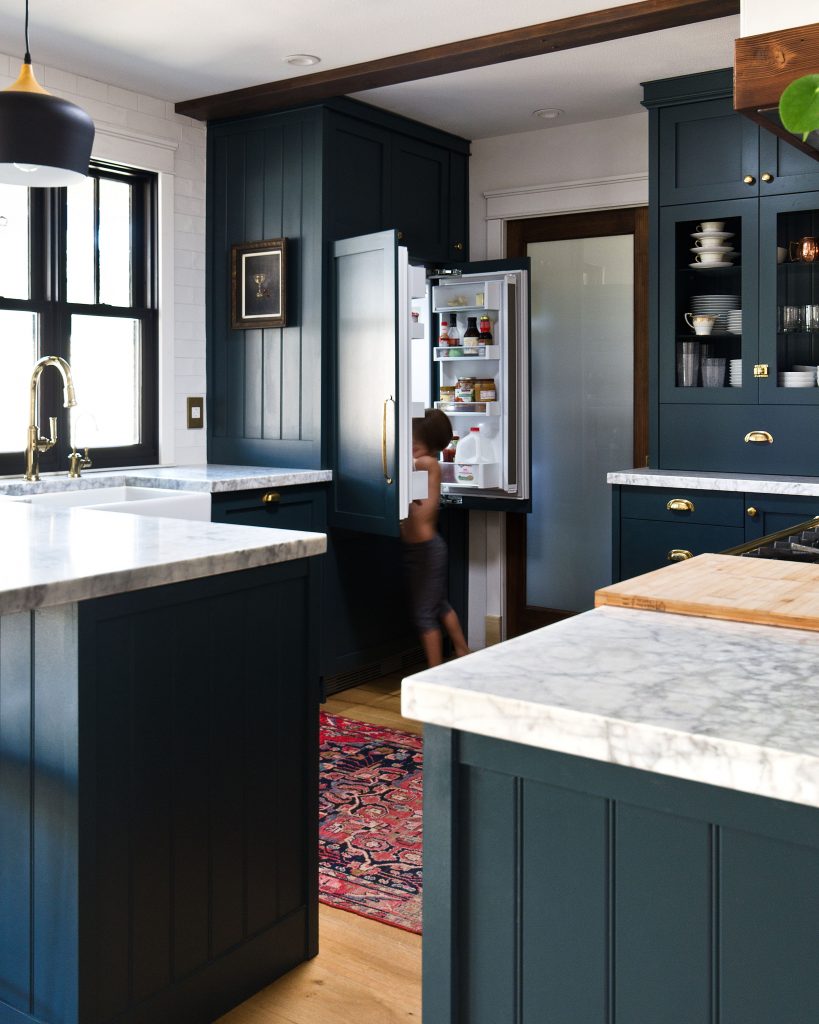 Before we moved in, I recognized that an attached laundry room can easily be converted to a great walk-in pantry. Since our food storage would have plenty of space in the old laundry room, we could move the fridge to the space the pantry previously occupied.
Despite being an already small space, the laundry room was previously very under-utilized, with only a row of shallow upper cabinets. We never used the door to the side yard, and since we were putting in the french doors in the master bedroom/studio-office (on the same side of the house) we felt very comfortable replacing the door with a small window to allow us to install more cabinetry. In addition to removing the door, stacking the washer and dryer allowed us to install a 12″ pull out cabinet, a 38″ corner cabinet with a corner carousel, and a 24″ undercounter microwave cabinet and drawer, in addition to a 24″ cabinet above the stacked washer and dryer and 3 rows of open shelves, AND a butcher block counter! Moreover, when we do our addition, we will be creating a full laundry room in the new bedroom hallway space, near the garage, and this pantry will no longer have to pull double-duty! We will be able to easily install a 24″ x 90″ IKEA cabinet in the space, and have even MORE pantry storage!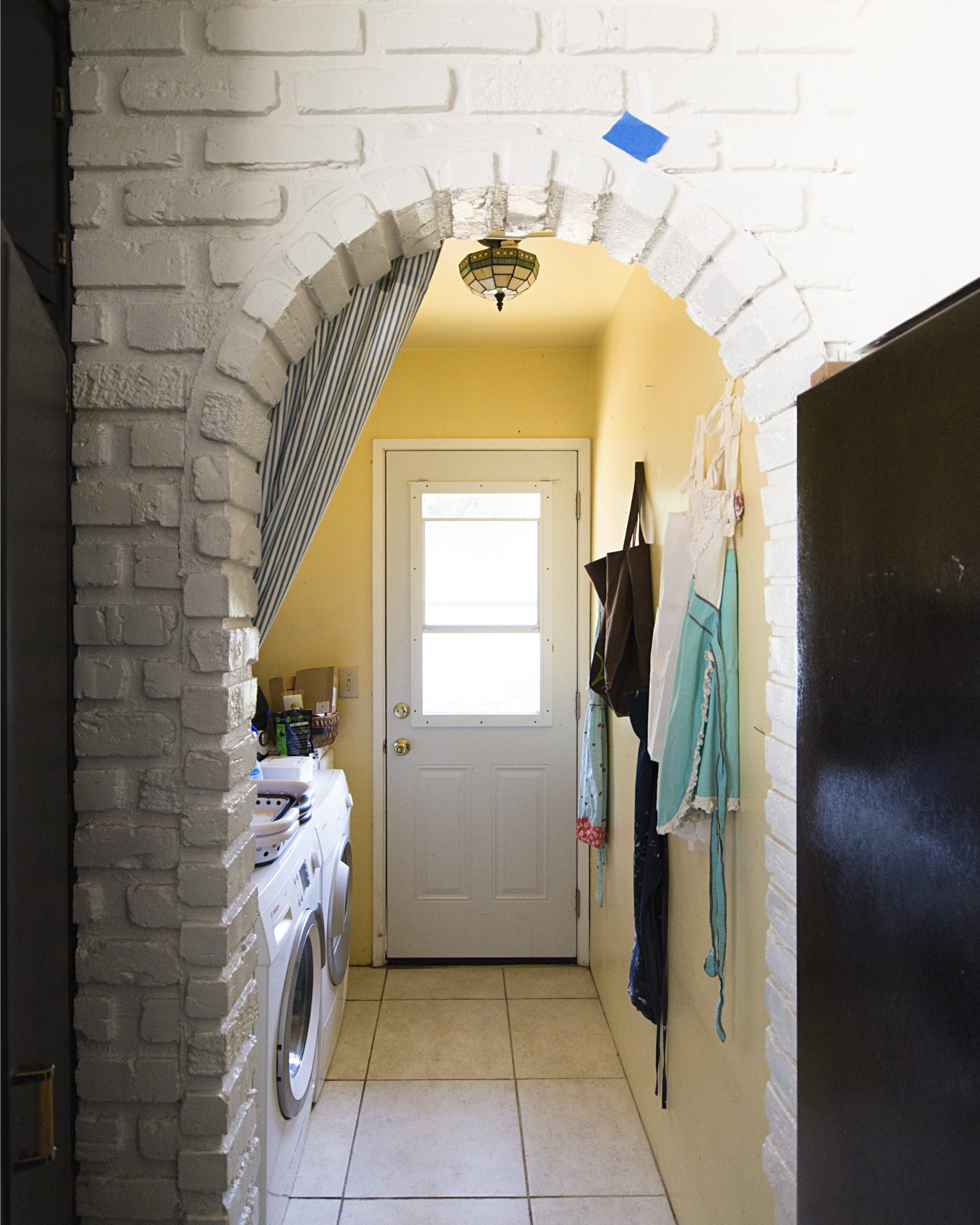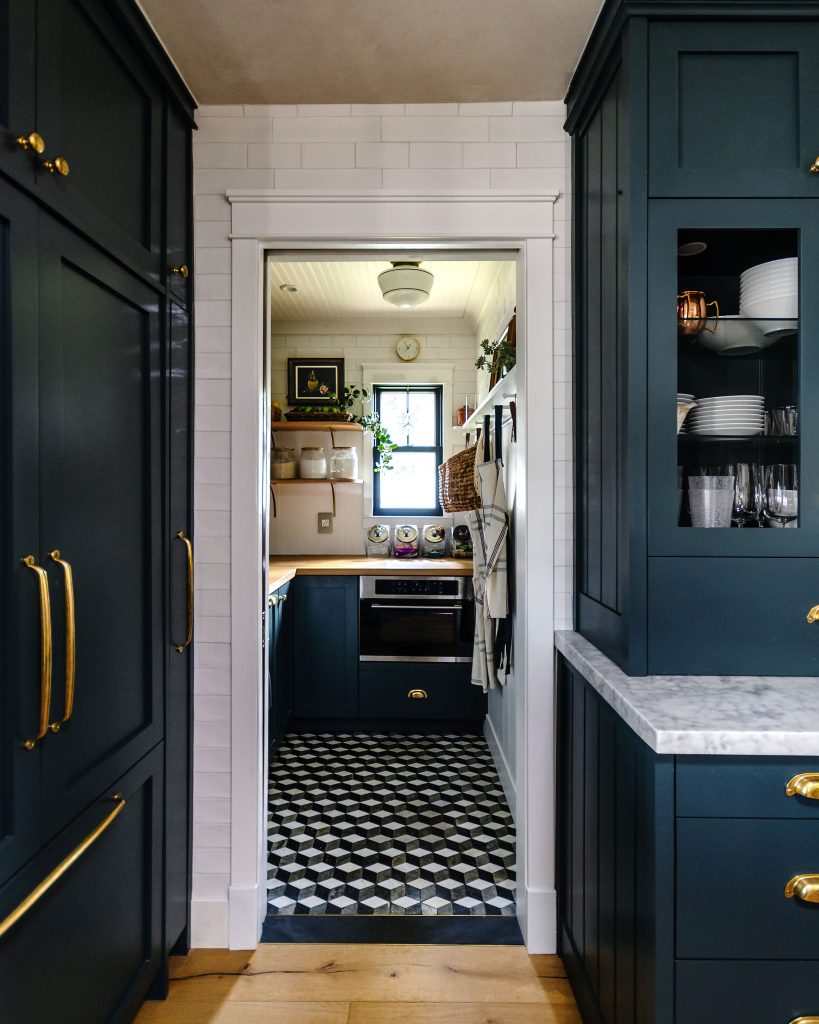 ---
Extending the Wall & Creating the Bar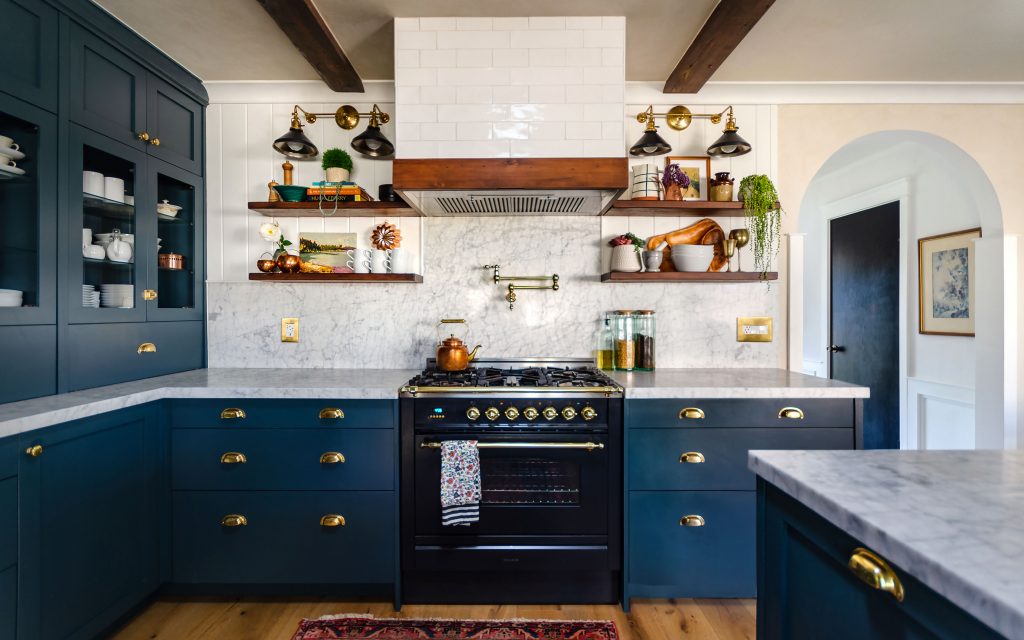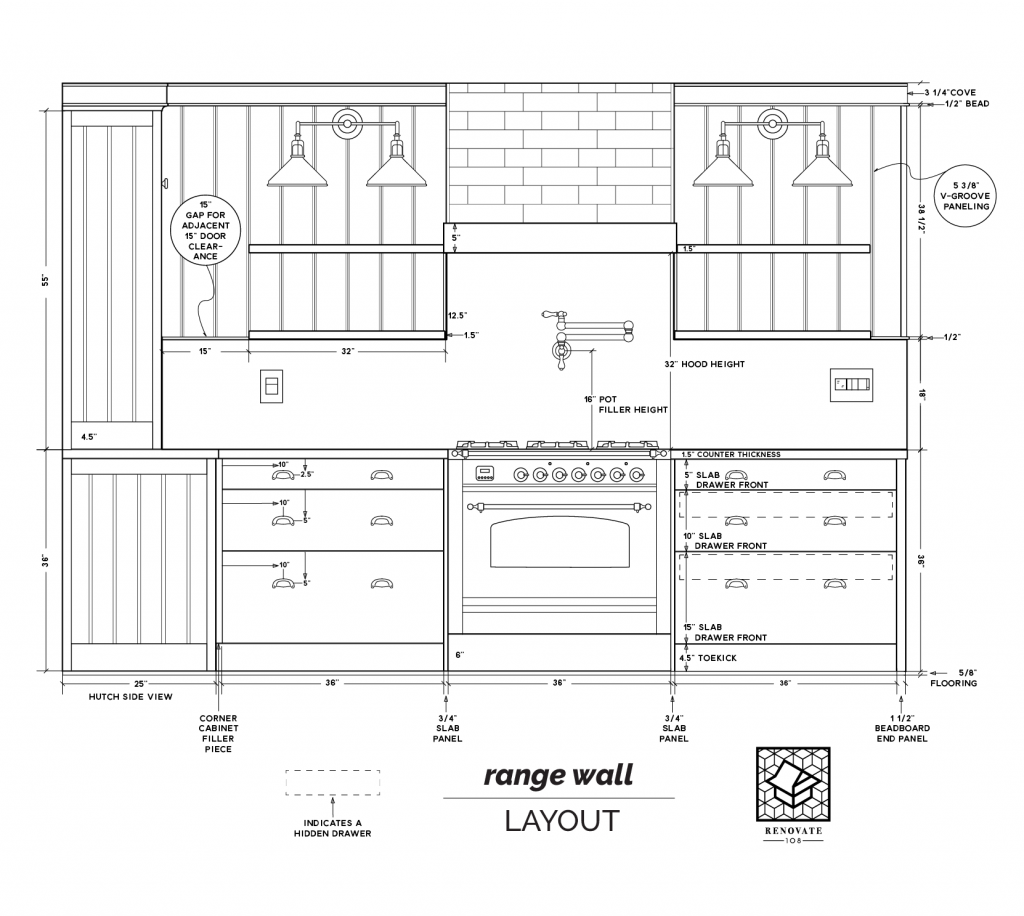 The next easy (for me) decision was to bring the cabinets on the wall with the range out about 24″, and creating a cased opening into the entry space, so we could have more cabinets on that wall. This took some convincing on my part, and required a lot of drawing blocks on the floor to prove that by reducing our 6ft open entry to a 4ft cased entry we would still have PLENTY of space to enter the kitchen. Also, extending that wall required us to make a return wall that cleverly allowed us to create an entirely new bank of cabinets, the dry bar. (We'd also be enclosing the entry allowing it to be its own space, and I really loved that idea). See below for the slider of the before and after layouts in case you need a visual to more fully understand; the slider illustrates it better than words ever could!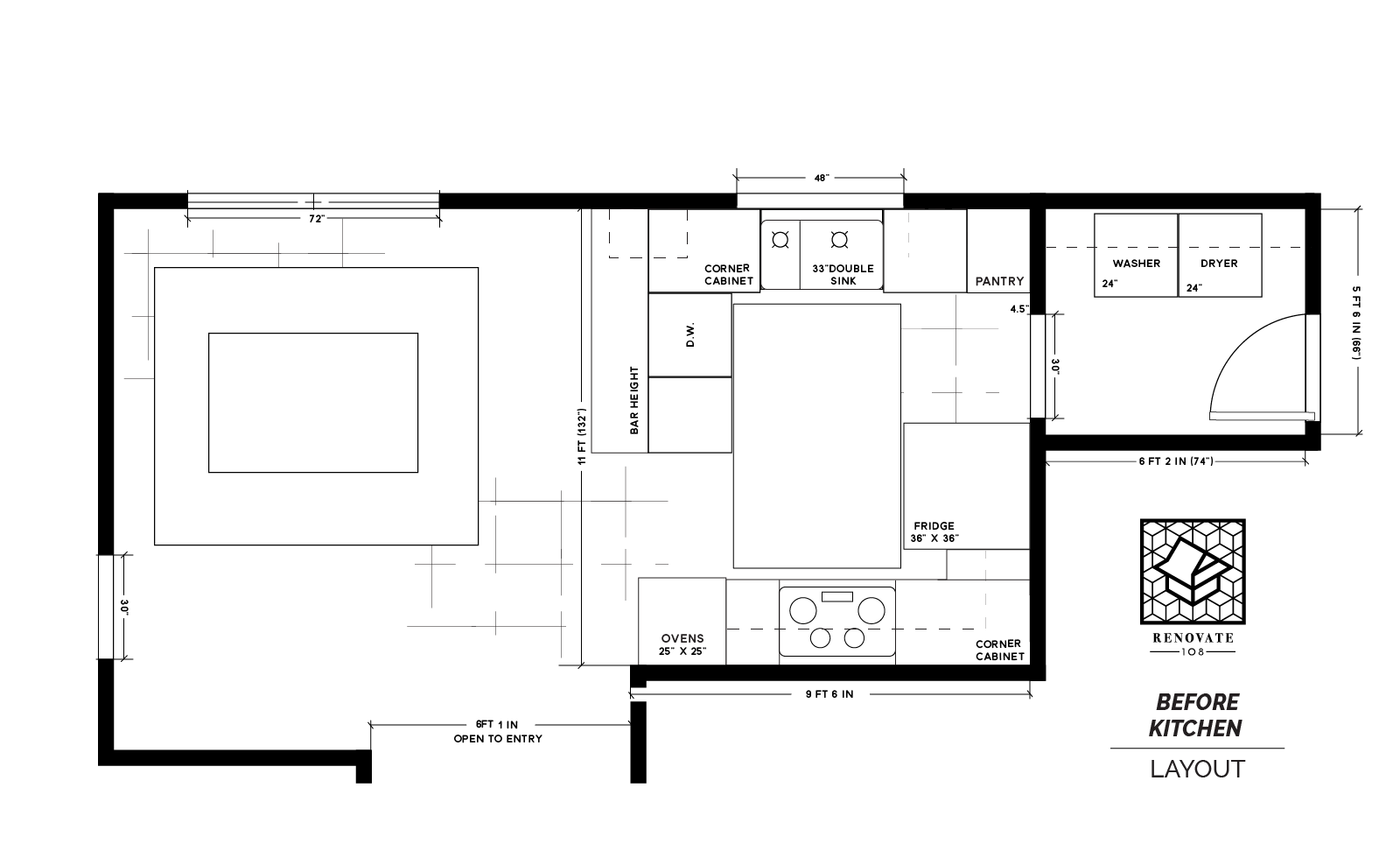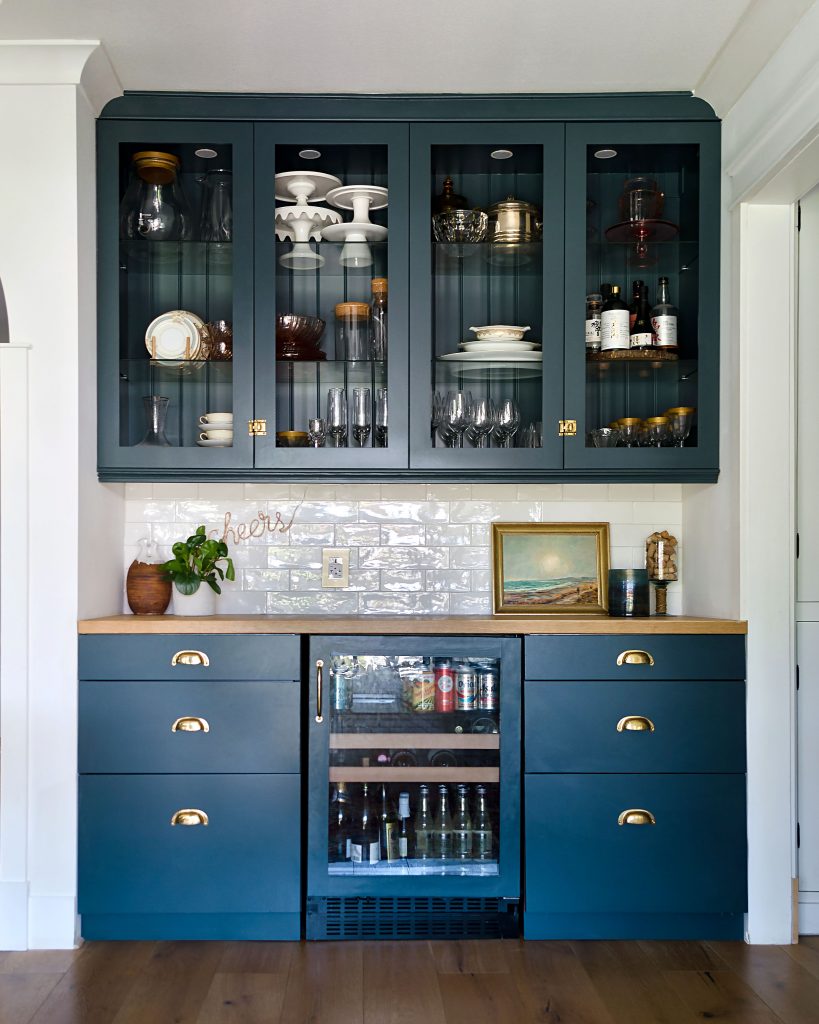 Sometimes, you make changes to a home that feel like they were an original feature to a home, and adding these cabinets is certainly one of those instances! And by using the same cabinets, tile, and hardware from the bar space to the pantry, the kitchen feels so much larger without adding a single square inch!. This is because your eye connects all of these elements and categorizes it as the same space, so the further you spread out common elements, the larger a space can feel.
One element to note here is that the new wall in between the bar and the entry is only 2″ thick. I can hear you all asking "WAAAAT, how can that be??!" along with Tyler, my dad, and the carpenters who were tasked with building this wall. Even after I explained that the wall would have a return and you would never visually be able to tell, skepticism was still abundant. The thin wall happened because I got greedy for storage space.
Or, you could think of it in a kinder way, in that I was being resourceful and not wasting space. We had 74″ on this open wall. Your average wall is 4.5″ thick (drywall is usually 1/2″ thick and a 2×4 is 3 1/2″ (I know, confusing), for a total of about 4.5″). I really wanted to maximise the space, and I also wanted symmetry. So that meant on the uppers, I could go with two 36″ cabinets for a total of 72″, or the next one down at two 30″ cabinets for a total of 60″, a difference of an entire foot! (Although perfectly acceptable, obviously a 30″ and a 36″ would work in the space, but in cases like this my preference for symmetry and balance would win out) It felt like such a waste. I decided that since this wall was not structural in any way, it would probably be fine being thinner than the average 4.5″ total wall thickness. We constructed this part of the wall with 1/4″ drywall and 1″x2″s, and it worked out great!
Until it didn't. The upper cabinets actually measured 72 3/8″ when pushed together and we had to cut into the drywall at the sides to hang them. After that, it worked out great!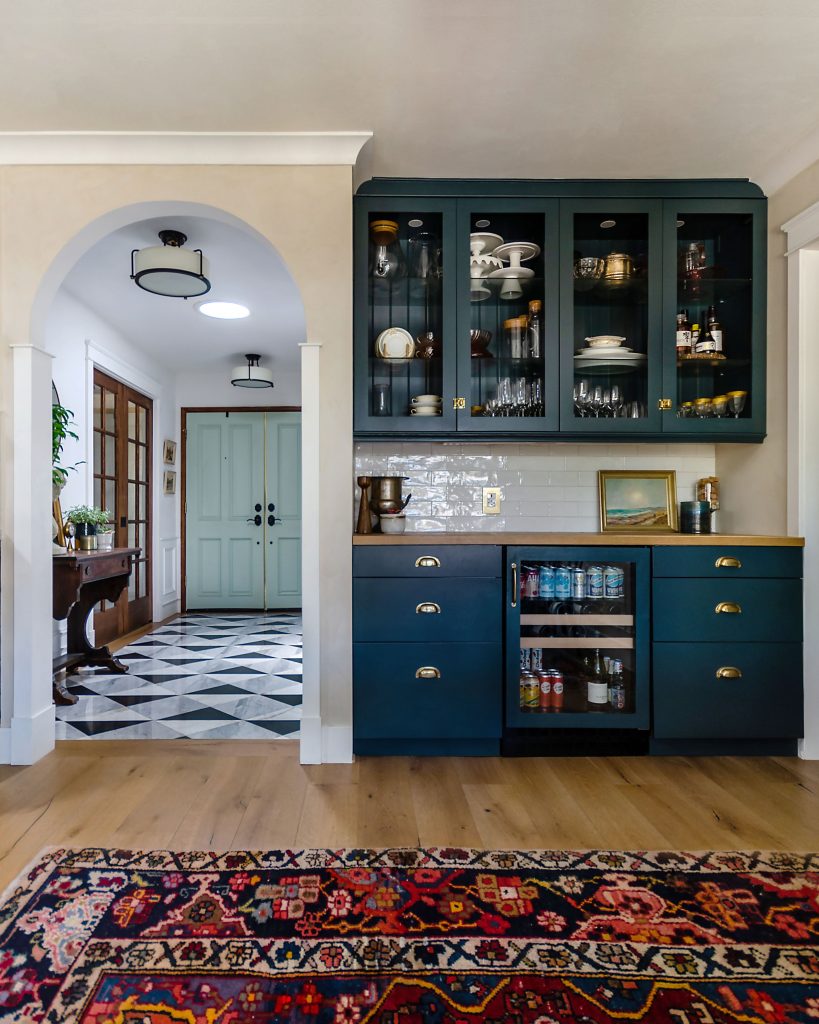 ---
The Hutch & Open Shelving
One element of our kitchen that did change from my initial designs was our upper cabinet arrangement. Originally, I had upper cabinets all along the wall where the hutch is now, wrapping around to the stove wall. This arrangement would have been very functional, and indeed probably would have provided us with more upper cabinet storage. However, something about it never felt quite right for us. I was very enamored of the cabinets that started at the counter that IKEA cabinets had just made easily possible. I knew I wanted to incorporate that idea somewhere, and I thought I would do it at the bar for a long time.
However, I realized I didn't really need more upper cabinet storage… what I really needed was more drawers! And by creating a hutch on the wall perpendicular to the range wall, I could have the extra drawers I wanted! (It might sound silly, but we really wanted to create a drawer for all of our sprinkles that we use for cookie & cake decorating! Also, we needed a vitamin drawer). Some have wondered about the loss of counter space, but we have PLENTY of counter-space in this kitchen, we have never once wanted for more counter-space. Indeed, we still have almost 3 times the amount of counter-space we had before (not including new the bar and pantry counters)! And you can still use the space (there is about 10.5″) in front of the drawers, we use it regularly!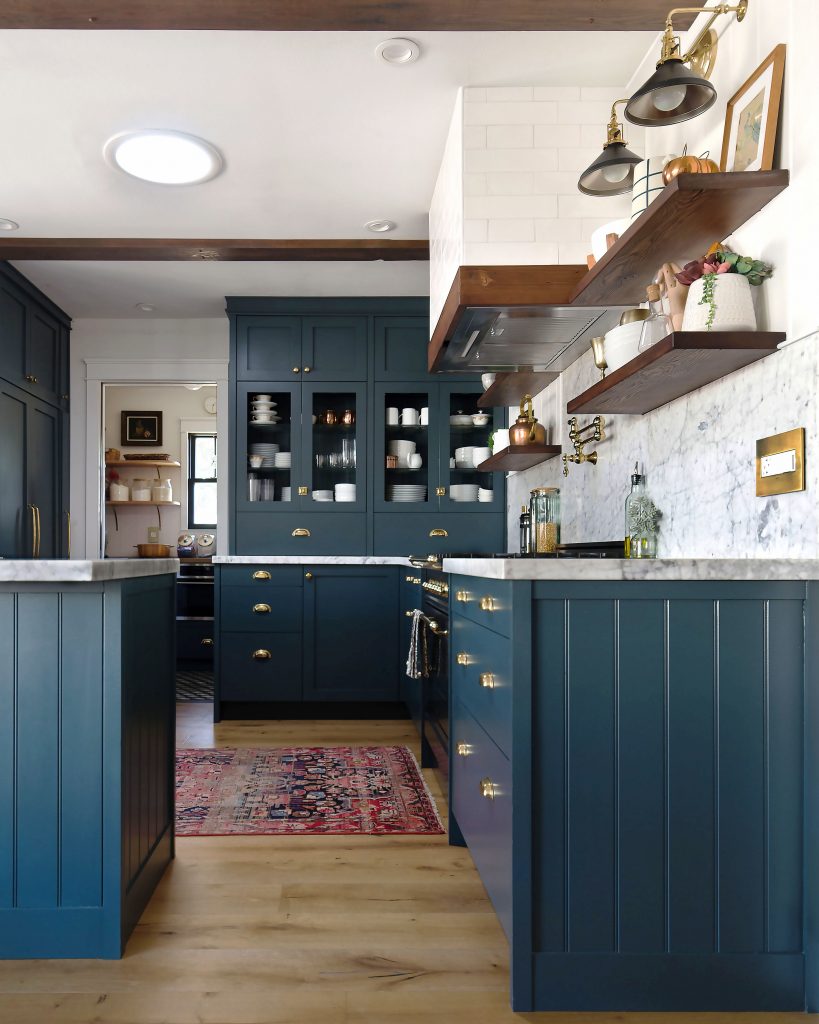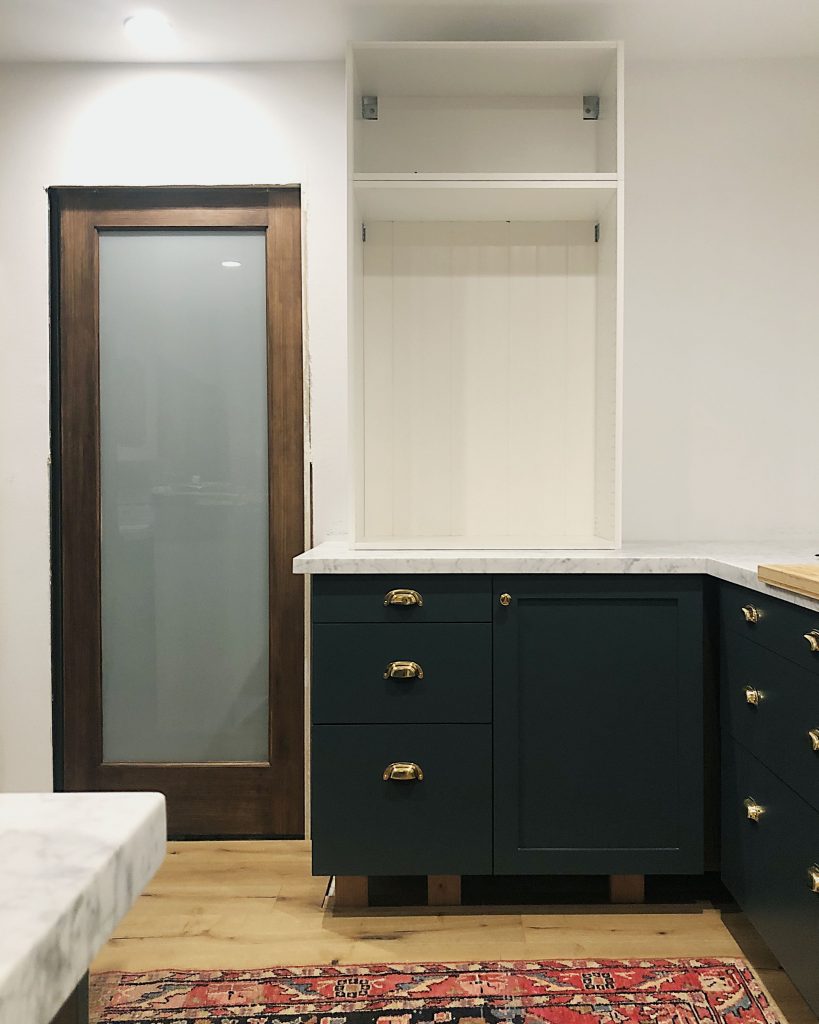 Deciding on the counter-to-ceiling hutch meant that I would need to do open shelving around the stove, which I was interested in doing anyway. In the unnecessarily controversial open shelving vs. closed storage debate, I dont really have a definitive opinion! It all comes down to your lifestyle (and I am not here for a one-lifestyle-fits-all approach to anything). For us, I like a little open shelving for display and maybe a few everyday items, but I don't think I would like it if it were my only upper storage. I like a mix of open storage, glass front storage, and covered storage to be able to display what I want, and to (just as important) hide what I want as well! Our glass front storage works because I am the sort of person who naturally puts things away in very a specific spot on a shelf or in a closet. If you don't naturally do that already, it's probably not a great idea for you. I also have a rule for my own dishware so that it will effortlessly look pulled together; white ceramic or porcelain, clear glass, copper, brass, wood. Any set of rules could work, but it's important to define parameters to your pallet. But I still need to store things like our ice cream maker and our instant pot, so I like to have some closed storage as well!
One important thing to note, is that if you're doing a cabinet with a door next to an open shelf, the shelf must be cut to have enough space for the adjacent door to open. In our case we needed enough space to open a 15″ door, so we have a 15″ space and it works perfectly!
---
The Peninsula & Sink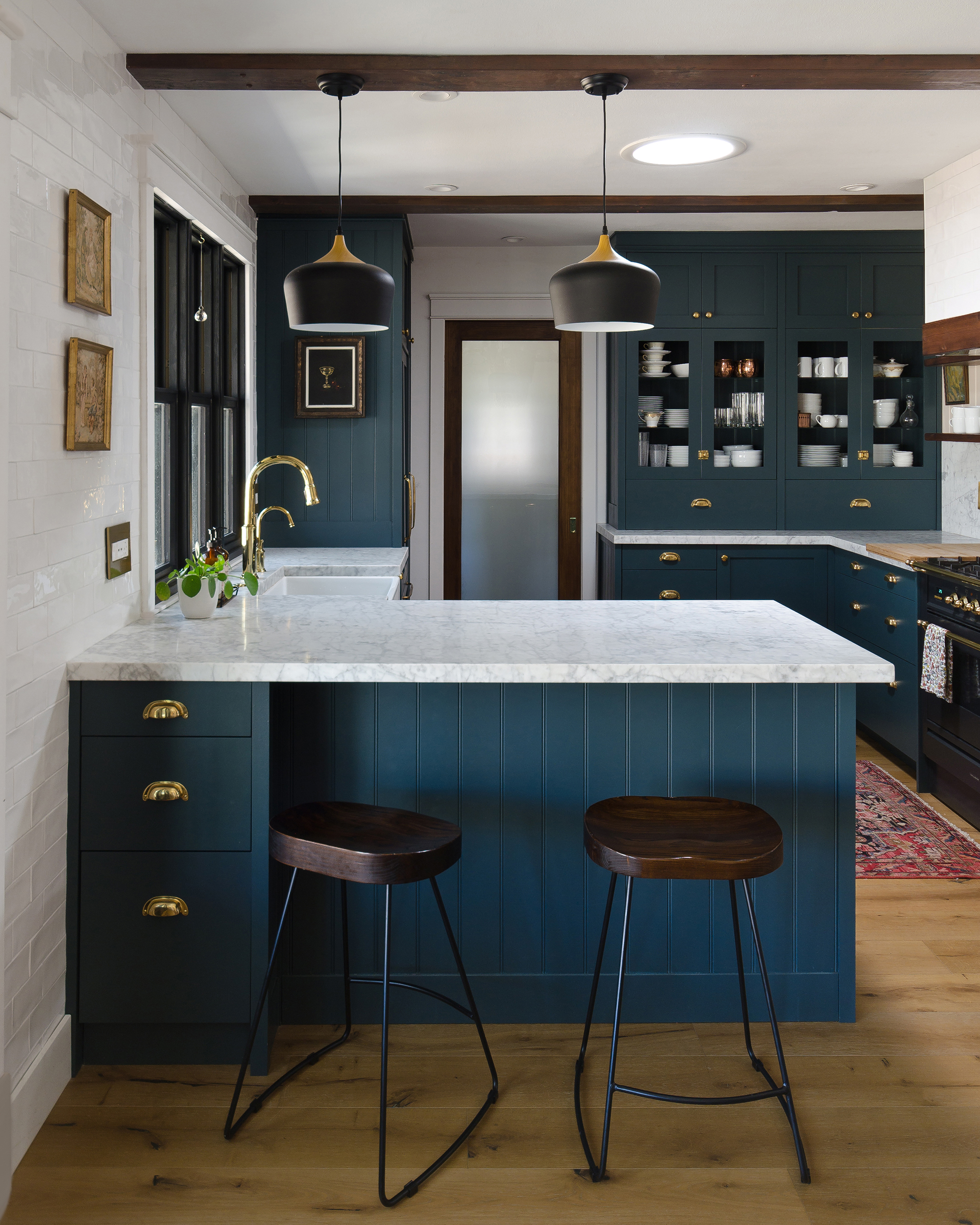 The last section I'd like to cover is our kitchen peninsula & our sink cabinet (we get a lot of questions about that sink cabinet!). We really didn't have enough space for a kitchen island, and while I'm sure some people would have put an island in an 11 ft space, in general, I try not to force anything in a design. After testing it out in sketch up (just to know for sure it wouldn't work), an island definitely felt forced in this space, as it would have only been able to be about 12″ D with 36″ walkways. And we loved the peninsula anyhow! Our kitchen previously had a bar height counter above the peninsula, and we decided that making that space all counter height would really help to make the kitchen feel more open (along with getting rid of the soffit). We also really wanted a little cabinet on the other side of the peninsula for a "homework station". However, I wasn't willing to give up on my broom cupboard pullout or my cutting board cubby, which added about 7″ to the total space, nor was I willing to go down to a 24″ sink, so we were running into a problem with the how far our cabinets were encroaching into the dining space…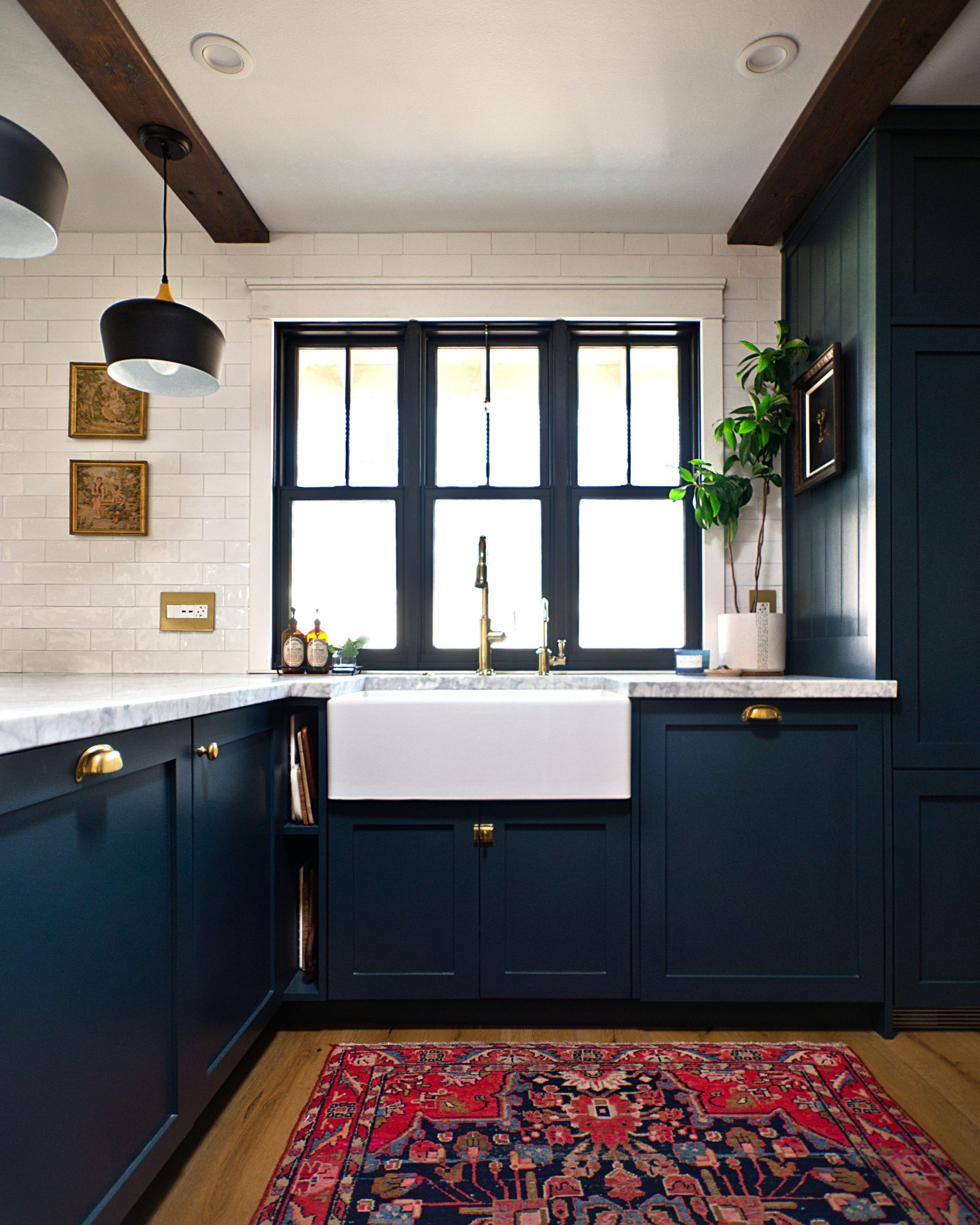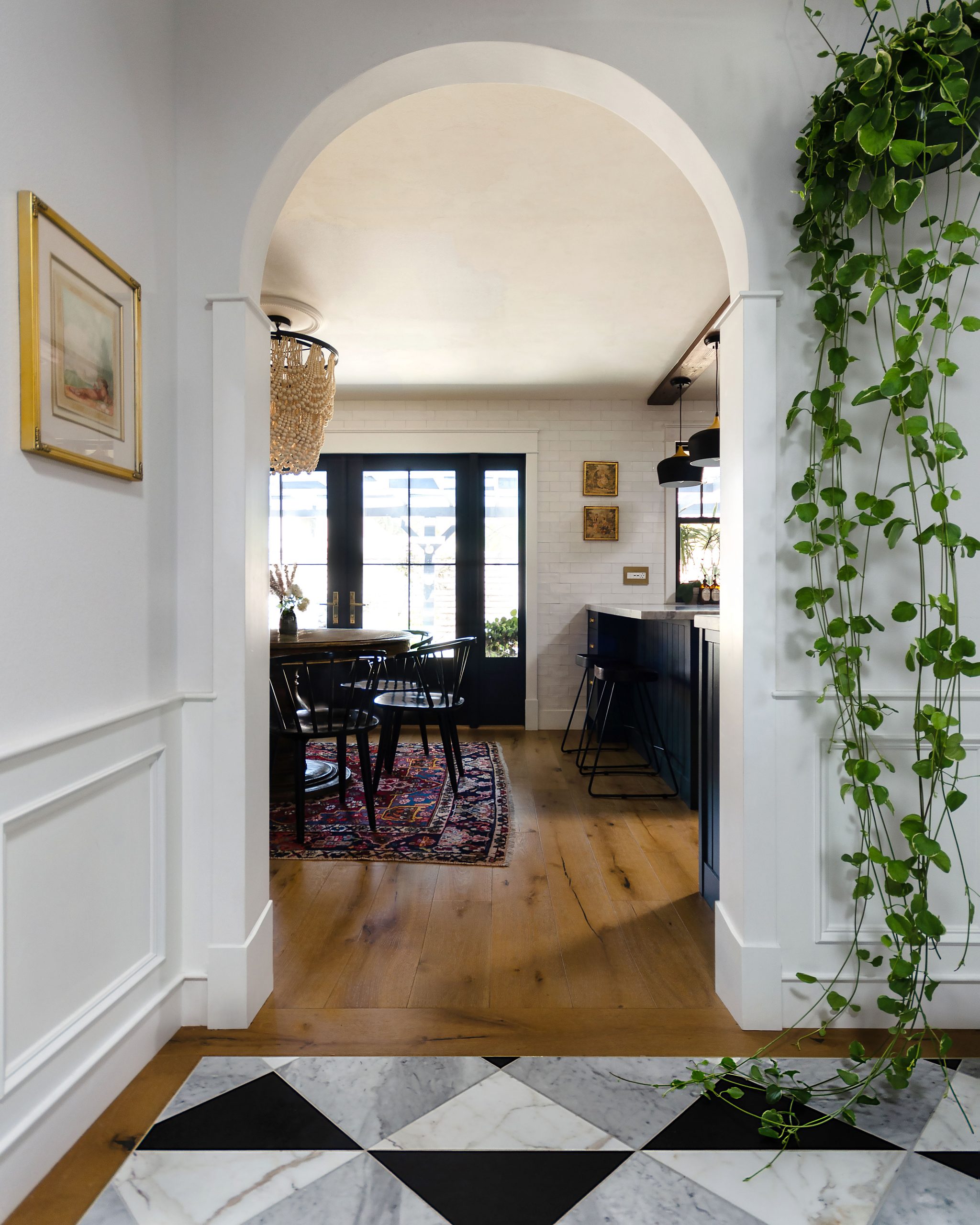 We really didn't want the dining space to feel cramped, especially in the space between the bar stools and the dining chairs. Walkways should be about 36″, and there should be about 36″ behind chairs, to allow people to pull them out and sit comfortably, and still have someone walk behind the chair. We already were compromising in this situation, and I didn't want to have to pull out the counter overhang the full 15″ needed to fit our homework station cabinet. Then I thought, is there enough room with the corner carousel to countersink that cabinet? We could get away with a 9″ overhang and counterstools that have a small footprint, and still have all the elements we want; a six person dining table, counter stools, a homework station, the cutting board cubby and a broom pullout. Corner cabinets are notorious space-wasters. Perhaps we would instead be able to encroach upon the dead space in the corner cabinet, instead of risking chairs and people constantly bumping into each other.
And, as it turns out, I was right! We were able to countersink it by 6″ (and, if you're in need, probably could have done more!). After adding the side panels you'd never know that this cabinet was countersunk. You have to bend down, and look inside the corner cabinet to even sort of see it. And, I am happy to report that we've never had a problem with chairs bumping into things after almost 2 years of living with this arrangement!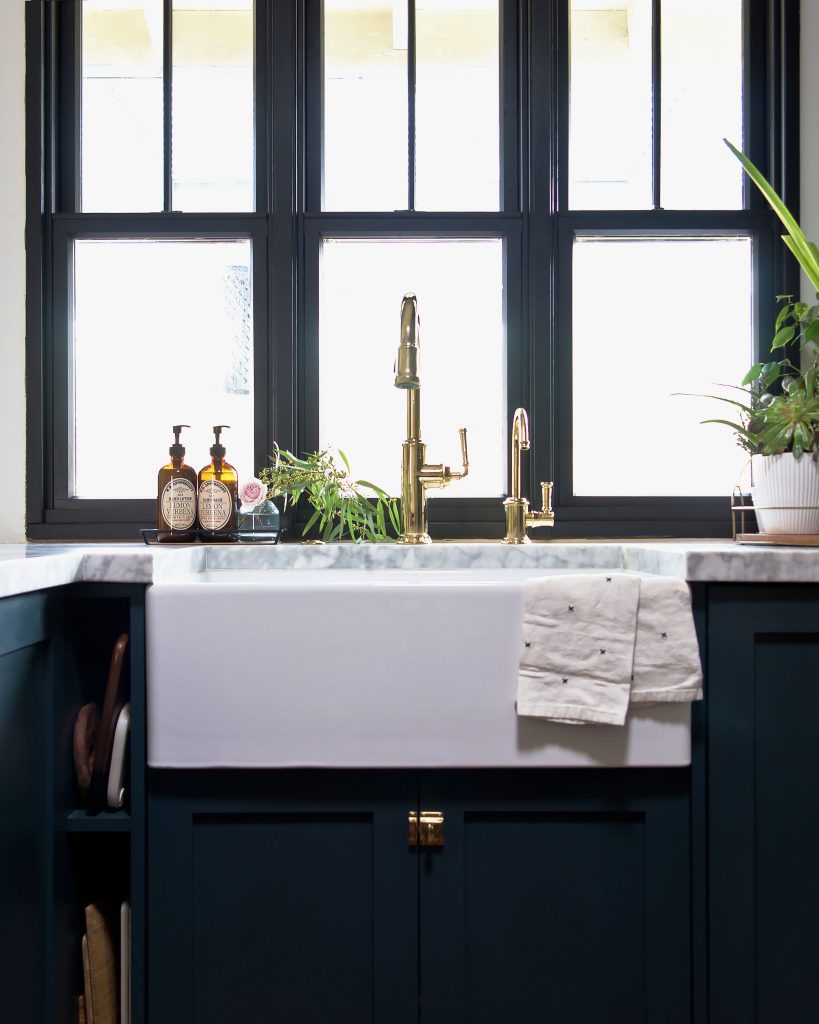 And, as I stated above, I didn't want to compromise on the size of our sink. We were very much looking forward to wide, single basin sink large enough to easily fit tall pots and pans, and the occasional child! The kitchen sink cabinet is composed of a precisely 30″ W x 10″H sink , on a 30″W sink cabinet, with two 15″W x 20″H Semihandmade Shaker doors below it. We have no filler piece between the doors or and the sink. Because it is an apron front sink, it required us to cut away some of the cabinet, and it also required us to find a sink that did not taper and had very precise measurements. The sink needs to be supported on two sides by rails that are at least 3/4″ thick, and the cabinet itself satisfied that requirement after it was cut away to fit the sink. However, we also used the two reinforced metal rails that come with the IKEA sink cabinet, so our sink is supported on 4 sides. It is not glued in or screwed in anywhere (I guess that's a common way for sinks to be installed) and it still blows my mind that it's technically just sitting there!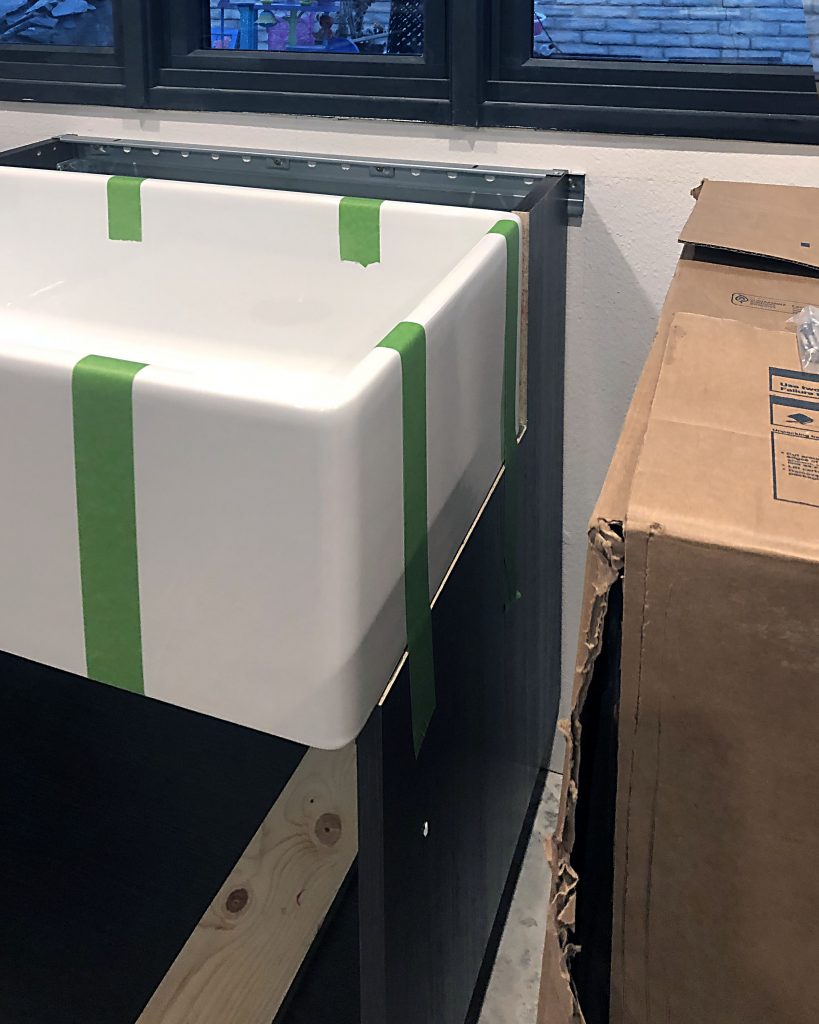 Do I have any regrets? Ostensibly, no. I am honestly a little surprised, I thought I'd have at least a handful of "Argh, I wish I did that differently!", but I don't. My singular big regret is that I'm not happy with our beverage center; it was advertised as built-in, but it is not! It is only panel ready, but it requires 3/4″ of space around it to put a panel on it… we tried to veneer it and it did NOT come out great, and it still has to have gaps around it and it is not what I thought I was buying at all. But this problem is easily solved by buying a new, truly built-in appliance in the future. The only other tiny thing I wish we could have done was make the broom cupboard a bit wider to fit a roll of paper towels like I had originally envisioned, but it felt silly to push out the whole kitchen for a roll of paper towels… (They are so thick when they are brand new!). It is better than I imagined it would be!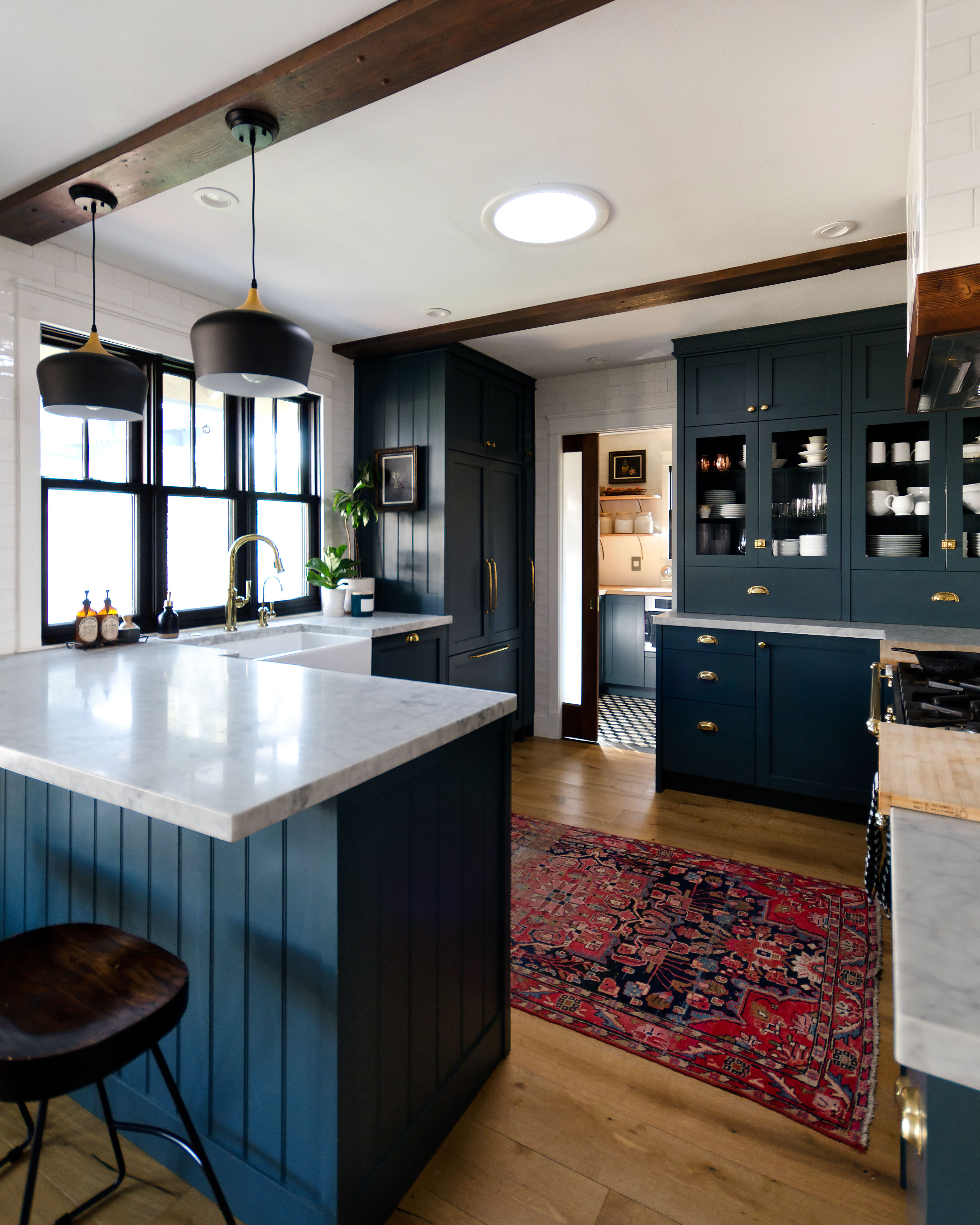 Hopefully I answered all of your questions regarding the cabinet dimensions and layout! I think the organization of the kitchen (i.e. what's in those drawers?!) warrants a separate post, as well as separate posts covering appliances, our custom pieces & paneling, lighting, the broom cupboard, etc. If there is anything you have a question about, please leave a comment below!
*Interested in all the resources for our kitchen? Head to the Shop our House page!
*Wondering why we have dark wood IKEA sektion boxes? We were amongst the last to be able to purchase these boxes in March 2018 (yes, we bought them 7 months before we installed them!), and by the time we were making returns and exchanges in October and November, they had already phased out the wood boxes.